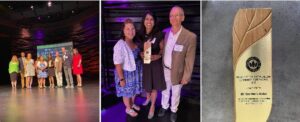 The 801 Men's Shelter won the 2022 Community Leader- Judge's Choice Award for USGBC National Capital Region. According to the judges, " This project was the one that the jury spoke and discussed a lot about especially the community engagement process and the impact on the society."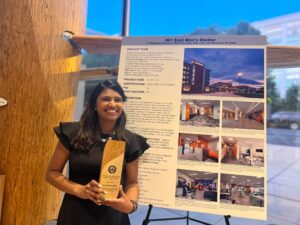 Accepting the award on behalf of our team are Carl Skooglund, Project Manager and Krutika Shah, Project Manager. Carl and Krutika were instrumental in overseeing this complex project and coordinating the LEED Gold effort with the entire team.
We are so honored to receive this recognition! From the beginning when our firm eagerly sought to design this new shelter, our intent was to create a unique place of hope that provided dignity to those who desperately need it.  Our entire portfolio is dedicated to our mission of "Design Empowering People" to transform communities. This shelter represents our belief that design can make a difference for its residents and for the environment. The incredible effort by many of our staff and the terrific partners we worked with demonstrates that anything is possible.
Project Team:
Owner – DC Department of General Services & DC Department of Human Services
General Contractor – Blue Skye Construction and Coakley & Williams Construction
Architect – Wiencek + Associates Architects + Planners, Inc.
Civil & Landscape – Wiles Mensch
MEP Engineering – WB Engineers+Consultants
Structural Engineering – Tadjer Cohen Edelson Associates
Code and Safety – Koffel Associates, Inc.
Kitchen – Nyikos Associates, Inc.
Sustainable Design – Sustainable Building Partners
USGBC National Capital Region's Community Leader Awards celebrate excellence in high-performance, healthy design and building, environmental stewardship, and community impact, and serve to highlight the green building initiatives of USGBC NCR community projects, businesses and local members. They recognize building owners and project teams for their extra effort to accomplish LEED certification for their buildings, and they honor the people who are working to create better buildings and better lives for all in the DC metro area.